Xiaomi Founded in 2010, the Chinese company Xiaomi, due to low prices and high-quality products, is gaining more and more popularity in the world every year. Let's take a closer look at them.
Many compare Xiaomi with the American brand Apple and argue about competition, because All Xiaomi gadgets and devices have an unusual design, look very stylish and are much cheaper than their main competitors. For example, the company explains the low prices for its smartphones by the fact that it sells them at cost, and plans to earn on applications that are built into the MIUI shell running on the Android OS. And these arguments about the competition can be supported by the fact that many Xiaomi gadgets are assembled at the same factories where the Apple iPhone and iPad are made.
Another advantage of Xiaomi is a wide range of manufactured goods. Surely, you have already seen, or at least heard, about popular Xiaomi smartphones and MiBand fitness bracelets. But this is not all that is produced under this brand. Having got acquainted with Xiaomi more closely, you will definitely find for yourself some kind of gadget that you definitely want to buy.
Best Xiaomi gadgets:
 – Smartphones and tablets
 – Fitness bracelets
 – Giroscooters
 – Quadcopters
 – Smart Vacuum Cleaners
 – Headphones and audio systems
– External batteries
– Bulbs and lamps
– Action cameras
– TV set-top boxes
– Smart watches and other accessories
And this is not a complete list of what we found. If you know something new about Xiaomi gadgets, be sure to tell us about them in the comments.
Fitness bracelet Xiaomi Mi Band 2
The most popular in the world the fitness tracker Mi band 2. Connects to any smartphone using a special mobile application. With it, you can monitor the number of distance traveled and steps per day, measure heart rate, also set an alarm clock (reminder) for certain actions and count the number of calories burned. The tracker is equipped with an OLED display with touch controls and an electronic clock.
Xiaomi Mi5 Smartphone
The latest model of Xiaomi Mi5 is a bit like the flagship Samsung Galaxy S8, both in design and in basic characteristics. It looks very expensive and is made of quality materials – there is no case squeaks that owners of earlier models complained about. A very powerful processor, a 16 MP camera with a stabilizer, a fingerprint scanner, and a low price are the main advantages of the characteristics of the mi5 smartphone check all Xiaomi smartphones price in Pakistan.
Smartwatch Xiaomi Huami Amazfit
If you are tired of a fitness bracelet and want something more advanced, then we recommend looking at the Xiaomi Amazfit smartwatch, which stands out among competitors with a bright, sporty design. In addition to the standard functions of the fitness tracker, Xiaomi smartwatches have additional functions: real-time heart rate monitoring, built-in GPS, HD touch screen, instant notifications of incoming calls and messages from social networks. networks, as well as Xiaomi Amazfit, can store up to 500 songs and play them on your wireless headphones. Now you do not have to take a smartphone for a run or to the gym.
Xiaomi Hybrid Pro HD Headphones
If you still use standard headphones from the box of your phone, then we dare to upset you, because You will never hear true quality sound through them. Spend some money and plunge into the world of music. Even long-forgotten tunes will want to listen to a new one, believe me) Xiaomi Hybrid Pro Hybrid headphones are a great combination of price and quality. This technology allows you to simultaneously reproduce high and medium frequencies in combination with dynamic bass (low frequencies), which allows you to achieve the most perfect sound.
Xiaomi YI 4K Action Sport Camera
Do you live an active lifestyle? Skydiving, skiing, and snowboarding, traveling a lot? To capture the best moments in life will help Xiaomi Yi action camera with 4K resolution. According to its characteristics, the Xiaomi camera is almost as good as the more expensive competitor GoPro HERO 4.
Xiaomi Wireless Mini Speaker
Xiaomi Speaker Bluetooth Mini – wireless speaker for connecting to a smartphone or tablet. Comfortable, portable, in a metal case and with two stereo speakers. It is convenient to take on the road or travel when you need to add sound to your gadget, then this option is the most that).
Xiaomi Mi Robot Vacuum Cleaner
Most recently, this "cleanup" appeared on Aliexpress and is now available for order to anyone. You can control this miracle technology from your smartphone and tablet using a special application. The vacuum cleaner is also equipped with twelve types of sensors for orientation in space and the ability to customize the automatic cleaning schedule. There is a function of wet cleaning. Many users have already appreciated the novelty and were pleased with the smart gadget.
Table lamp Xiaomi Mijia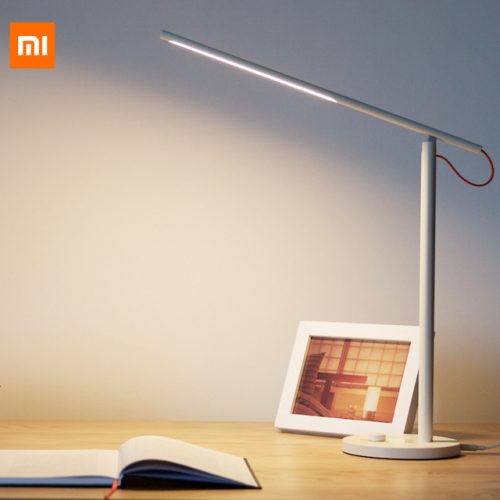 Desktop LED ice lamp Xiaomi. Stylish and original design, 4 lighting modes, the ability to control through a mobile application from a smartphone.
External Battery Xiaomi Power Bank
Portable charger for various gadgets with a capacity of 10,000 mAh Xiaomi Power Bank. Just an indispensable thing on the road, for example, when the phone or tablet is dead. Never be without a connection!
Smart TV box Xiaomi Mi Box 3
When buying a TV for home a few years ago, we didn't think (and then it still didn't seem to be) about having such a cool and useful feature as Android SmartTV. And buying a new TV for this is a very controversial option since we like him and then do it especially not where. But, while "shopping" for Aliexpress, we came across this TV set-top box – Xiaomi Mi Box 3. And it seems that this is the ideal and most economical option to upgrade your old TV.